Make your move a breeze with our complete guide
Moving house is an exciting time, with the prospect of a fresh start, in a bigger home and a chance to build a better life for you and your family. Unfortunately, once you've got the fun parts out of the way(looking for a new house), the reality of moving sets in.
Before the big moving day, there are so many important things to remember and organise. You might also have to spend a bit of time living out of boxes, with everything packed up ready to go.
Whilst moving house can be extremely stressful, it doesn't have to be. With a little advanced planning and breaking everything down into individual steps, you can reduce the stress and make your move a breeze. Here's our complete checklist for moving house…
A Few Months Before
Arrange van hire or begin organising removal companies
Getting quotes for removal companies in advance can help you reduce costs and avoid any booking issues. We recommend calling at least three companies to find quotes, as well as looking for references and reviews online.
Arrange your boxes and storage items at eastbankstorage.com
When you're moving, you'll need boxes and lots of them! It's worth remembering that you'll need different types of boxes for different jobs. If you're packing up belongings you're moving with you, then standard cardboard boxes will suffice. However, more durable packaging could be handy for long term storage.
Speak to East Bank Storage for your boxes!
Begin arranging and packing some less used items
Pack up those items that you don't use very often, keeping in mind that it's easier to package a few items each day, than the whole house at the last minute! It may seem obvious but remember to wrap delicate items in extra protection such as bubble wrap, marking all boxes so you can find things easily, should you need them before moving.
Arrange cover for household pets (& childcare for moving day)
On the day of your house move, things will no doubt be hectic. Arranging cover for pets (and childcare if you have any kids) can reduce stress and give you one less thing to worry about. Consider kennels or catteries for the day of your move and begin calling those close to your current and new home.
Arrange storage for larger items to free up space. Speak to us to arrange your storage! If you have larger items, or particularly valuable items such as antique furniture, it can be worth storing them in advance. This will free up space in the house on moving day.
Speak to us about 24/7 storage facilities in Chicago or Milwaukee.
One Month Before
Register with local services if you are moving to a new area
You'll need to register your family with doctors and dentists if your new home is in a different district.
Doing this early can avoid disappointment if particular service providers aren't taking on new patients, leaving you enough time to find an alternative.
Inform your local authority if you are moving to a new area
You'll also need to inform local authorities if you're moving to a new area. It's worth giving them a call to see what, if any, paperwork is involved.
Let your media providers know you are about to move
TV, internet, and other providers will need to know you are moving, including energy suppliers. If you don't let them know early enough you could be left with an unexpected bill, or charges. Some suppliers may offer early discounts if you stay with them which could help you save money in the long run.
Let your bank know you are moving
Updating your bank details will help your move run more smoothly, with statements and other correspondence going to your new address without any delay. In a lot of cases, you can update your bank details online. Another thing to remember is that, in some small cases, your bank may freeze your account if there is any unusual activity, which could include transactions in areas outside your current circle. Not informing your bank (especially if you're moving a fair distance) could cause major headaches for you down the line.
Arrange your home insurance to cover your new home
Insurance providers are notorious for inflating premiums if you're in a hurry to purchase, which is why it's beneficial to arrange cover for your new home well in advance. Don't be tempted to risk a 'crossover period' where your home and contents are uninsured (which, in a lot of cases, actually violates the terms of your mortgage).
Begin packing more items into boxes that you don't use daily
As your moving date grows nearer it's time to ramp up your level of packing! At this stage,
you'll need to start packing items you don't use daily. This might cause short term
inconvenience but can really reduce stress levels over the coming weeks.
Agree your moving day itinerary with your removal company
If you found a reputable moving company, it's time to discuss the details of your move with them. A quick call to arrange the start time and estimated time it will take to move everything will help you plan more effectively on moving day.
A Few Weeks Before
Give your house a deep clean
It's nice to leave your current home clean and ready for new owners to move straight in. A deep clean will be much appreciated by the people buying your house and helps build good relationships.
Arrange any in house services
This is something to remember for both your current home and your new one. Arrange more intensive services in advance to make the move easier. If you're really lucky, the owners of your new property may allow for carpet cleaners or decorators to come in advance of your moving date, which is much more convenient for you and your family.
Arrange for your mail to be redirected if needed
Redirecting your mail may be necessary if you can't contact all your service providers and will help you avoid missing any correspondence.
One Week Before
Make sure your realtor and legal team have everything in hand
It's likely that your house payment has already been sorted, along with any paperwork that goes with it but it's worth checking with your solicitor and realtor to ensure there's no loose ends. Usually, an email to both will help clear up any potential issues that could crop up on moving day.
Finish the last of your packing; everything should be in boxes!
By now everything should be packaged up in boxes that are clearly labeled, including your more regularly used items. This can be the most inconvenient part of a house move. You might not have the luxuries you're used to on a daily basis but your moving day is pretty close!
Let your neighbours know you are about to move
Keeping your neighbours in the loop about your moving day will help make moving day run smoothly, without complaints about noise or vans outside the house. You never know, they may even offer to help.
Ask friends and family if they can help on the day; the more hands the better!
When it comes to the day of your house move, you'll want as many hands on deck as possible, especially if there are heavy items involved. Asking friends a week before your moving date gives them plenty of time to get involved; remember to thank them for their help with an invitation to your house warming.
Pack valuables and important documents securely and keep them to hand
Valuables and documents you may need to hand, such as details about your new property will come in handy on the day of your move, so it pays to keep them close by. A plastic wallet, ring binder or smaller box is perfect for bringing in the car or removal van, so you always have them close by.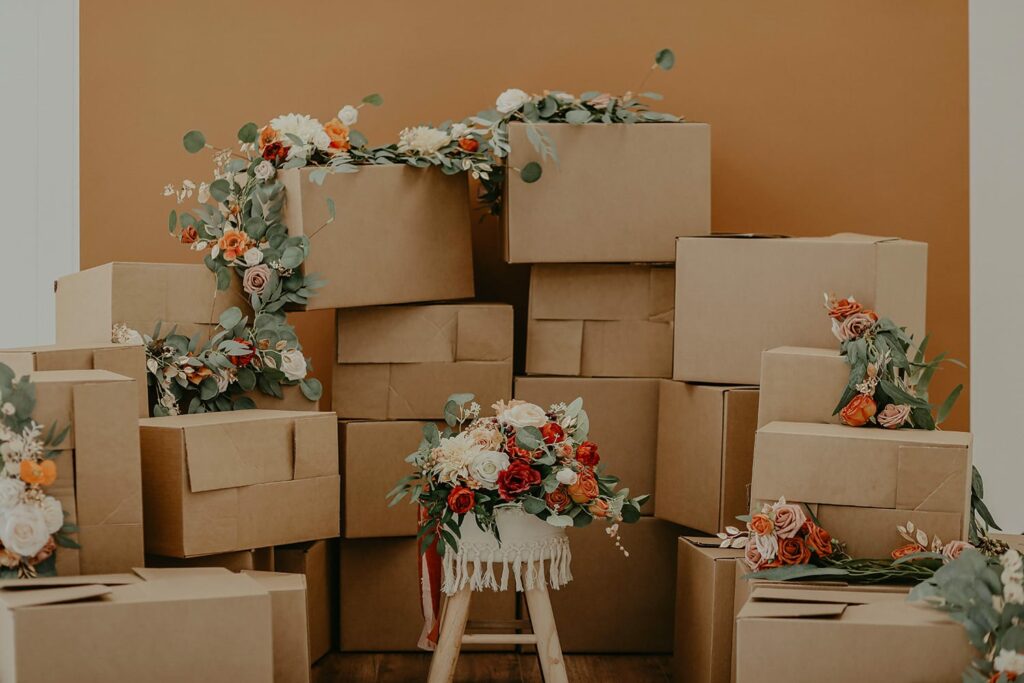 The Night Before
Put a box together with essentials that you'll need for your first day at home
A small selection of bread, milk, coffee and sugar is vital for the first day in your new home but it's something most people forget. Create your very own essentials box to help tide you over whilst you settle in.
Pack essential electrical items such as chargers and tablets in one box
Chargers, mobile phones and tablets will realistically be needed every day, so it's worth keeping them all together. There's nothing worse than moving, getting a flat battery and having to rummage for a spare charger!
Make sure your phones are well charged
It may seem obvious but ensuring phones are well charged the night before moving day is vital for a smooth move. Throughout the move you'll probably be in regular contact with your removal company, family and friends.
Arrange boxes in each room for easy access
Will arranging boxes in your current home make for a smoother transition on the day you move? If possible, arrange boxes in the order you want them to be taken to your new property, with more important items nearer to the front door or porch.
Move boxes downstairs if needed
Again, moving boxes the night before could speed up your moving day, especially if you have the chance to move boxes downstairs to make it easier for your removal company. Be warned though, moving everything downstairs doesn't always pay off! If you over clutter certain rooms it can be overwhelming and actually slow down the moving process.
Confirm your moving details with your removal company
One last call to your removal company the night before your moving date will clear up any last minute issues as well as give you a better night's sleep. You can go to bed knowing that your removal team will definitely turn up.
Moving Day
Clear away all leftover belongings
Anything that's left out needs either packing or throwing away. Whilst your packing has already been done, you'll inevitably accrue other small items between packing and moving, most of which can be discarded. Make sure you clean out any cupboards, fridges or freezers that you're leaving behind.
Work with your removal company to itemise your boxes
Before you get stuck in feet first, speak with your removal company! They're experts at moving homes and will most likely have a very efficient way of doing things.
Give your old house one last check, make sure you haven't left any important documents
As your boxes and furniture are loaded into your van, be sure to give your current house one last check to make sure you haven't left anything important behind. Go methodically from room to room to make sure nothing is left. Some people find this part of moving house to be quite emotional, as you say 'one last goodbye' to your old family home.
Keep your phone and documents in the van or car!
If you took our earlier advice, you should already have a folder or small box for your phone and important documents. Make sure you keep these up front in the removal van or car, so you can access them quickly throughout the day.
Stay stress free
Remember, moving house is a big deal, with the moving day particularly intense, but it's not permanent. You'll be in your new home in no time, so try to stay calm and enjoy the day as much as possible.
We Hope Moving House Goes Without A Hitch!
We hope our Moving House Checklist really helps you with moving house. If you'd prefer a physical checklist which you can mark off as you go, why not download and print our accompanying Moving House Checklist Infographic?
You can get yours, absolutely free, here.
If you've enjoyed reading our guide to moving house without the stress and maybe even thought about a few things you'd forgotten, we'd love it if you could share this blog with your friends! Simply use the icons below to share with your social network.